BLOG
> Thomas Krens | 2015.12.09
A Chinese version of this article appears in
The New York Times Chinese
on October 22th, 2015. All rights reserved.
Thomas Krens: The Controversial King of Contemporary Art Museums in China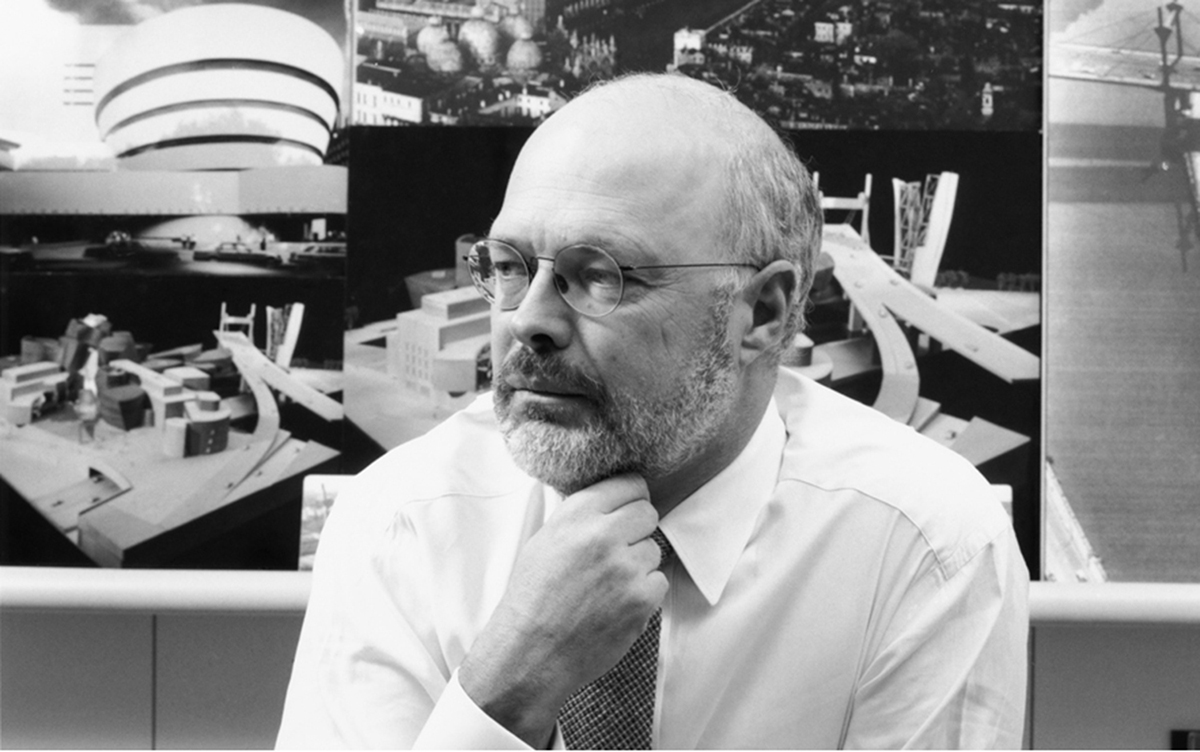 Courtesy of Thomas Krens
Even in the City of New York, which is full
of

strong characters

,
Thomas Krens is still so provocative that all the major press has no shortage of reports about him, as well as arguments relating to him. The former director of the Guggenheim Museum, who usually appears in the press with the impression of "
an arrogant manner and John Wayne swagger
," on one hand, has launched an indubitable cultural revolution in the field of contemporary art museums. During his tenure at the Guggenheim from 1988 to 2008, Krens single-handedly envisioned and led the global expansion of the museum, which made this local institution an internationally renowned brand, with branches in Bilbao, Abu Dhabi and Las Vegas. Major museums worldwide-- the Tate in London, the Louvre and the Pompidou in Paris have all followed his pace. His major success-- the
titanium-clad silver
Guggenheim Bilbao
designed by Frank Gehry, has been the hugest successful example in the history of the museum-driven city renaissance. On the other hand, his unabashed intimacy with business brought Krens exposure to hostile critics. "
The Art of the Motorcycle"
show in 1998 and the "Armani" show in 2001 both triggered enormous
controversy
; the heavy expense and poor outcome ending of some projects in the expansion process were also denounced as reckless brand-making. Cheers and criticism have imploded on this one person so fiercely that, when the Guggenheim announced
Krens would be off from the position in 2008
,
Linda Yablonsky started an article in Bloomberg rightly with
"You could almost hear the New York art world breathe a sigh of relief."
No matter how explosive the arguments are around, Thomas Krens has never slowed his pace after leaving the Guggenheim. In 2008, he founded his firm
Global Cultural Asset Management(GCAM Group),
and began to provide consulting services for museums worldwide. Without the chains from the museum, Krens seems to have attained more freedom. "Sometimes, He just grabs his bag and goes to the airport by himself," Klara, his assistant told me, "even we have no idea where he is heading to." From South Africa to Turkey, from Beijing to Changsha, the projects Krens has gotten involved in are spreading much more worldwide, obviously, without any lack of ambitious ones.
At the same time, on the other side of the planet, China, under the dual essential driving forces-- rapid economic development and the government's policies, a large number of new museums are trying to build their own era in a round of urban expansion. Krens foresaw this in the early 1990s and has initiated cooperation with Chinese art circles since then. In the post-Guggenheim
period
, his work has included Taimiao in Beijing, 2010; the Contemporary Art Museum in Quanzhou, 2011; and the Art Changsha Biennale 2015 in Changsha, 2014. Standing out amidst these, Krens' biggest project-- Changsha's
Meixi Lake Contemporary Art Museum
, part of the 120,000 square meter Performing and Art Center designed by Zaha Hadid Architects, comprises 45,000 square meters; this is 1.3 times the size of the Guggenheim Bilbao. Plus, with two other new large-scale museums, the 83,000 square meter
Hunan Provincial Museum
designed by Arata Isozaki and the Hunan TV Museum contributed to by Krens as well, the city of Changsha, the capital of Hunan Province, has clearly shown its determination to gain more global influence.
However, even though Changsha looks quite ambitious, the Meixi Lake Museum still confronts the typical predicament that any newborn large-scale cultural infrastructure might face in this stage of China, even as its construction is on the way to completion. With the anti-corruption determination from the central government, the slowdown of economic development, and particularly the remark "no weird architecture" made by President Xi Jinping early this year (although no one could really explain exactly what that means), it is questioned if this gigantic museum will be operated appropriately in the future. Especially, after the departure of the district governor in charge of this project, Krens hasn't received any further contact relating to the operation agreement which, according to him, was suppose to be signed in August, 2013. In this regard, Zhou Zhao, the Vice President of the Meixi Lake Company, responded in a phone interview September, 15th: "The Meixi Lake Art Museum is still a very essential project for Changsha. Due to a lack of experience, Changsha faces many difficulties in running such a big museum. However, after reviewing major institutions domestically and overseas, Changsha couldn't find any appropriate institute which was willing and capable of running this museum. So the Meixi Lake company decided to run the museum independently, but to cooperate with outside partners in sections, such as specific exhibitions, personnel training and system building. Krens might keep working with Changsha in this way, and might be hired as the honorary director."
It is worth mentioning that, as is widely known, it is not an easy thing to persuade Krens to participate in an interview, but he gave plenty time for this one in the first half of 2015. An agreement to make the article "precise" was made in the first off-record meeting, as Krens believed that most of the past reports relating to him were "inaccurate." For this interview, I went to his plainly decorated Tribeca office three times. The outside room, besides several assistants' desks, contains big platforms with architectural and exhibition models. The massive-figured Krens was sitting in front of a long desk, facing the window in the inner room, mostly working on a laptop and answering phones. At this point, I usually need to wait for a while: behind his back were a long meeting table, maps and drawings all over the wall, big boxes on the floor filled with books-- a total pragmatist's space. However, during our interview, every time we were turning to museums, an iconic charming smile always appeared on his face-- that is the kind of smile when a boy finally gets a toy car after a long time of longing, a smile of joy and even some
complacency
. Cai Guoqiang, an artist who has worked with Krens closely, even described him as "a little boy: stubborn, sentimental, and persistent." After several meetings with totally different styles, which I believe to be related to his current mood, I cannot help but feel that Krens' showmanship which has largely occupied the media is not because he knows how to seek to be a public figure; on the contrary, Krens, this huge unpolished rock, has no idea of how to modify himself at all.
The following conversation is condensed and edited based on three talks. Thomas Krens has reviewed it only for fact-checking purposes.
First, please tell us about the history between you and China.
That's a long story. It began 23 years ago, when I was the director of the Guggenheim Museum, I saw that the political, social and cultural situation with China was changing. Although I had never been to China before, I was very much aware of the growing importance and tremendous potential of China, and I decided to do an exhibition which would cover all of Chinese culture and history. I knew that it would require the cooperation and participation of the highest level of the government, so I arranged a meeting with the foreign minister Qian Qichen, though the Italian former foreign minister, Gianni De Michelis. I had known Gianni De Michelis since 1988 when I first came to Venice as the director of
The Solomon R Guggenheim Foundation
. Gianni De Michelis was a Venetian and an extraordinarily intelligent politician. In 1993 when I told him of my plans, he agreed to come with me to Beijing to explore the possibility of a major exhibition of classical Chinese art. At the time, China was beginning to emerge in the Western consciousness. I said that I wanted to do the greatest exhibition ever in the West of Chinese culture and history, the entire sweep of its 5000 year old history-- that's how I started.
In Michaelis' opinion, the first step was to seek a meeting with the Chinese Foreign Minister Qian Qichen. China's position vis a vis the West was not entirely clear. The minister of culture at that time was concerned about the new images of China that were emerging in contemporary art, which could be interpreted as being critical. Artists like Wang Guangyi and Fang Lijun were thought to be problematic. So the conclusion was at the time, that radical contemporary artists could not be in the show; the loans of the masterpieces of Chinese classical art were dependent on this condition. Obviously, I felt it was better to work with the Chinese government, rather than against them. The exhibition was approved, first by the Foreign Ministry, then by the Bureau of Cultural Relics. We made plans to borrow works from close to 100 museums around China. Sherman Lee, the director emeritus of the Cleveland Museum was the chief curator. At the end of the day, we had visited approximately 75 museums and were able to borrow some of the most extraordinary works of art ever produced by this the most extraordinary of countries. The exhibition was entitled
China: 5000 Years
. It opened in 1998.
My next major Chinese initiative took place in 1998, when we showed the Masterpieces from the Guggenheim at the Shanghai Museum. I became good friends with Ma Chengyuan, the director of the Shanghai Museum. By the time the Shanghai exhibition opened, I was well on my way to making 5 or 6 times every year to China; and by now I would have to say that have been to China more than one hundred times.
The Mexi Lake Art Museum is the biggest project that you have gotten involved with in China so far. How did you get involved in it? How was Zaha Hadid chosen as the architect?
In the summer of 2011, the First Party Secretary of the Pioneer District in Changsha, his name is Zhao Wenbin, was leading an extraordinary development project-- literally to build a new city to be joined to Changsha. At the very same time, the Hunan Provincial Museum was already planning a major new expansion and they had selected Arata Isozaki as the architect. This Hunan Provincial Museum project began in 2009, about the same time as the Meixi project started to be playing out. Zhao Wenbin asked Isozaki for his opinion on how to build a contemporary Museum. Isozaki, whom I have known for more than 20 years and with whom I have worked with on a number of projects, told them about my Guggenheim success. Zhao Wenbin had decided to conduct an architectural competition for the Meixi Lake Museum. For reasons that were never fully explained to me, it was a political decision and they wanted all five architects to be European-- they invited Hans Hollein and Coop Himmelblau from Vienna, Paul Andreu from Paris, Zaha Hadid from London, and Marco Casamont from Italy. My company was not involved at that time, but we were put in touch by Isozaki one day. They had just finished the competition; on July 29th, 2011, the first time I went to Changsha to meet with Zhao Wenbin. Later we signed the contract-- sometime in the fall.
Over the years, including my time at the Guggenheim, I've been involved in the design and planning of more than 40 museums throughout the world. The client often comes to us and says: "We want to have a world-class museum." Well, a world-class museum? What does that mean? It means a world-class architecture and a world-class program, but the client rarely has any curators, or managers. Without expert opinion and design, building without program is like building a box. What goes in the box? Who decides what goes in the box? Meixi Lake asked us to come up with a plan. After Zaha Hadid won the competition, we worked on this project for three years, including the development of a cultural master plan for the museum and we worked with the architect in developing the architecture according to professional standards.
Now that this stage of consulting work is completed, will you follow up after it officially opens?
It depends on the client; I'm not counting on it. Most times, the ambitious museums are not built. There are many reasons; almost always the circumstances are different– clients change, a financial crisis occurs, or there is a new election. For all the projects that we've taken on historically, let's say forty projects, only ten really get built, so it's 25 percent. In 2011, we did a project for the Beijing Workers Labor Union, a plan for the development of Taimiao, the Imperial Ancestral Temple in Beijing, to become a major world-class venue for culture. I think this occurred because of the success of the 2008 Olympics. The visionary at the time was the secretary of the Beijing Workers' Labor Union; his name is Liang Wei. He is a very intelligent man. But it is not being build. Why? Obviously it is a very important location. Maybe Liang Wei did not feel that he wanted to risk his political capital at this time until it's better prepared. (Note: The construction of Taimiao project has began last year, and the museum may would open later this year or early 2016. The architect is Zhu Pei.) It's impossible to predict, except that there is a tremendous amount of cultural activity in China, and there seems to be business both in exhibitions and museum design.
What kind of city do you think has the potential to run a successful art museum?
The primary example here is Bilbao, which was a relatively unattractive city of steel, shipbuilding and heavy industry. After the shipbuilding industry departed to China and Korea, Bilbao wanted to reinvent itself as a cultural capital. At the time I was the director of The Solomon R Guggenheim Foundation. When the Basque government asked me to consider a museum in Bilbao, I thought it was a bad idea.
But you still did it?
Because I was very candid with the Basque government -- I told them what it would cost and what the vision would be, and they said: "Yes". The rest is history. Somewhat the same thing happened with Zhao Wenbin in Changsha. My company did not set the general objective, but leaders of the Meixi Lake project made it absolutely clear that they wanted an international world-class museum. Therefore, we came up with an international world-class program.
So you think Changsha will have the same kind of success as Bilbao?
It is hard to predict if Changsha will be successful. Changsha's population is 10 times larger than Bilbao's, 100 times larger than Venice's. Now Changsha wants to do the same thing-- make the city a cultural destination. I cannot tell you if this arithmetic is going to work; all I know is that I see a city like Changsha building a new provincial museum of 83,000 square meters designed by Arata Isozaki, a new a Meixi Lake museum of 45,000 square meters and a performing arts center of 48,000 square meters, both designed by Zaha Hadid, and a Hunan TV Museum of 10,000 square meters designed by Richard Gluckman. In terms of the quality of the architecture, it is possible that these projects in Changsha, all well underway, are among the most extraordinary current cultural projects in the world. I don't know any other city in the world that is doing similar things in culture; maybe except Beijing, which is building a new NAMOC. Does this mean that Changsha will succeed? I don't know, but they have a good chance; it also depends on the official policy.
Have any other Chinese cities reached out to you?
Other cities have contacted us: Qingdao, Chongqing among them. But it takes people with vision to implement projects. There is a danger that China's propensity for building outstrips its capacity for programming. China is famous for buildings that get built but don't get programmed-- look at Erdos which spent a lot of money, but the population is still small. They built a fantastic museum, but it is primarily an empty shell.
What are the most important elements during the whole process in your opinion? Courage? Investment?
Building an important cultural institution from scratch is difficult. Unique vision, of course, courage and investment. And you have to have the resources to create something truly extraordinary. Look at any great museum in the world– the Louvre, the Met, the Guggenheim Somebody or some entity has to provide the resources to build them. Sometimes it is the government, and sometimes it is individuals. You have to have a vision: you have to have a program to be attractive to the audience; you have to have the good sense to speak to an audience and not necessarily speak down to the audience. Changsha wants to be better educationally and culturally; Changsha wants to build on its extraordinary history; they have the ability to shape the vision. This is not my vision; it is their vision and their resources. But sometimes you also need to be able to make magic happen. That's what we do.
Culture establishes national identity, people will pay for national identity. But the process is complex. After the fact, Bilbao looks like a preordained success. In the beginning, you think everybody in the Basque country wanted a Guggenheim Bilbao? No, not at all. I believe that the Basque identity was at the heart of the issue. When I started going to the Basque country in 1991, it was a place that was known for political violence. In the previous two decades more than 800 people had been killed by terrorists pursuing Basque separatism. In the beginning of my time in the Basque country, on occasion, I had to wear a bulletproof vest and travel with armed guards; security was posted outside of my hotel door. The separatists did not want an American institution interfering with Basque culture. In fact,
there was one attack in the museum just before it opened. Two terrorists tried to smuggle a rocket launcher into the museum in a shipment of flowers for Jeff Koon's sculpture; there was a gun fight, and a museum guard was killed
. Yes, that's culture. But I tell you what-- from the day the museum opened,
it was a huge success for the Basques
, and the Basques think it's the smartest thing they've ever done. Political violence has virtually disappeared. An economic boom has been created in Bilbao. Property values have increased. The Basque country is known around the world, and the Guggenheim Museum designed by Frank Gehry launched a new fascination with contemporary architecture. The public relations value of the Guggenheim Museum Bilbao is incalculable; it would cost them billions of dollar to buy that; they think it's their museum. Of course it is not very easy. They didn't create it-- I created it-- but they created the opportunity. There was a man with the vision; he was the president; his name was Jose Antonio. He said: "I want a museum. I will put all my political capital into this, but you design it, you program it, I will make sure it gets paid for." That was the deal.
There is a wave of new museums in China, both public and private. What are the driving forces behind this?
The motivations are complicated. They are being played out at the highest level and they differ from situation to situation. What is taking place in China is being driven by massive urbanization. Over the last two or three decades, six hundred million people have moved from the country into urban environments in China. Actually, that was
in 2010 when China was crossing the fifty percent line of the urban population
.
Urbanization requires the construction of highways, airports, high speed train systems, apartments and office buildings, but also requires entertainment components and educational components, which means the construction of new schools, shopping centers, movie theaters and art museums. You think that people wanting and needing highways is a very natural thing? Of course. So do they want education and entertainment components? Of course. Shopping malls are not enough; art museums fulfill a social need. And from this point forward, it is far easier to program new museums for contemporary art, because contemporary art is being made.
To a certain degree, capital has culminated in private hands in a variety of industries-- real estate, manufacturing, natural resources, practically everything. This private wealth has created a demand for contemporary art, so galleries come to exist and the auction houses proliferate. Everything in China is the function of the pressure of these enormous numbers. Contemporary art is part of the fabric of contemporary society.
You just mentioned the relationship between economy and culture, so what is the role the economy plays in this whole process?
Let me ask you a question, who paid for the Forbidden City?
People paid for it.
Well, I suppose that's correct, since the foundations for the Forbidden City trace down to the 14th century by the Mongols. Somebody has to pay for it. 600 years later, what can I tell you? Only this. There are infinite interesting cultural stories in China; there is a market for them around the world; and that culture operates in the marketplace. But if you want a type of gallery structure that exists in New York to truly exist in China, you need lots of people with income distribution, that have the capacity to support culture. It is not a socialist concept.
How do you read the ambition of the Chinese government at different levels?
China historically has been a very important place with capacity to assemble a great deal of talent. China now recognizes that the Chinese have been undergoing an enormous transition in the last 25 years, and one of the things that has characterized that is the movement from a fundamentally rural situation to an urban situation. China recognizes that we are living in a complex and competitive world. The objective for China is to raise the standard of living and also emotional life, so it makes investments in educational and cultural infrastructure. And it does this in a systematic fashion.
For example, in 2011, the Central Committee issued
a policy statement on culture
. To my reading, this is a very important document. What does it say? At its core it says basically that one of the ways of projecting Chinese influence and Chinese creativity is by strengthening all aspects of the Chinese cultural infrastructure. The document also said that one of the ways that you would do this in the next five years or the next ten years is to import the best possible existing in the world. In effect they are saying that if foreign technology can play and operate a sophisticated art museum better than we can at this point in time, then let's go, let's learn from them, let's import their technology, let's embed the information in our own creativity. It's a policy, but it's also an attitude. The Chinese leadership basically understands that they have to move as quickly as possible to get to the level of where the state-of-the-art is, and then position themselves to go beyond, whether it's in the field of steelmaking, computers, components for telephones, etc. Culture is no different. It doesn't necessarily mean that it's like propaganda art from the 1960s, where every poster is Mao Zedong. They realize that there are certain levels of freedom taking place in China, although cultural ideas are a kind open market. Chinese artists are going to sell their work in the West, sometimes successfully like Cai Guo-Qiang. At the same, allowing Western art and culture to have a serious platform in China will also spur Chinese creativity. This transition in cultural communication is taking place in a very short period of time. In 1998, when I organized the
China: 5000 Years
exhibition, the government would not allow me to exhibit contemporary art, because they were afraid that contemporary art would get out of control. It was wrong; it was not a very sophisticated position. Now the government is in a more sophisticated position; indeed it seeks to export Chinese contemporary art.
How about local governments? You just mentioned that Meixi Lake is a for-profit project?
Profit is a complicated concept. The resources for building a museum have to come from somewhere. Meixi Lake is a government run company and also a real estate development company, so it really means that the government is in the real estate business, which is not necessarily bad. Of course government is in every business, including cultural business. The government is basically managing a social need. The government appropriated the land under Yuelu Mountain (which sometimes is a controversial issue in China) in effect to make Changsha a much better city. Meixi Lake is a new urban area; it's like building Central Park all at once, but a more sophisticated version. They are building roads, highway, subway stations and created an artificial lake. Around the lake, they are building parks, hotels, office buildings and apartments, and also the museum. So is the museum operating profit what everyone will pay for the admission ticket? No, it is more than that; it is the value created by the larger site. Actually, most museums don't make a profit, and need subsidies. But if this museum operates as a success, if this world-class building generates attention, it creates value for everything around it. So the people who were organizing the project decide that this is a worthwhile investment.
Obviously, this consideration is based on the economic aspect. So they are able to operate the commercial part and the service part at the same time for local people?
Sure, they are all part of the same thing; it's part of human nature, it's logical. Changsha Meixi Lake is not the first ambitious cultural project in the world. Through the Guggenheim, we were involved in the development of the West Kowloon project in Hong Kong. I suppose that Hong Kong is a similar model-- it's a real estate development with the cultural amenity. The leadership sees culture in a larger sense, this is part of an urban extension, not just building a museum in isolation. The ambition to improve the emotional life of its citizens is a fundamental ingredient.
And also the ambition to do good business?
Yeah, to do good business. It may raise the price of land, but the Changsha leadership felt somehow there is a balance between the real estate development and culture development. You just cannot build block after block of residential houses; that's a very communist notion. You have to think about entertainment. Museums are just like parks, they are a social need.
What is the role of local government officials in this process as individuals? Is their enthusiasm consistent or just spur of the moment?
Some care; some government officials don't care. The First Party Secretary of the Pioneer District, Zhao Wenbin is a passionate man. It was his idea to create Meixi Lake. There is no doubt that he had passion for culture and he thought it was important for his city. But he is also politician. When he got promoted to another level in another district in the fall of 2014, the Meixi Lake project lost one of its most powerful advocates. The political circumstances in China have also influenced, and continue to influence the outcome. When we presented the final report to Zhao Wenbin in September 2012, we were going to sign an operations agreement by August 2013. I even have signed an agreement with a local director of a major museum in China to be the co-director. But that has not yet happen, and as far as I know, the new First Party Secretary has not been designated? I was just in Changsha last January. The new building is almost finished. But it is still an open question as to what are they going to do with it. It is a gigantic museum designed for a specific purpose. Are they going to give it to the local Majiong society to put Chinese flower paintings there? I have no idea. The leadership must now decide on which direction to take it.
Does it frequently happen worldwide that the changing of officials results in a pause in museum plans?
Not so much in these institutional structures, because there is a big professional museum class. It's not to say that there are not extraordinary professionals in China. Probably the one field that China really truly excels in is the excavation and management of archaeological sites, but not necessarily in the presentation of that material. China does not have professional museum practices, like those that exist in the West. It was very difficult for Western institutions to send works of art to museums in China, because it was kind of a professional procedural vacuum across the spectrum of potential partner institutions. I worked in China in the early 1990s. I was very close to Fan Di'an at NAMOC. In the beginning, NAMOC was just a drafty building, not even heated, that would rent out its gallery space to artists even for a day. I remember there was a German business man, Peter Ludwig,
whose museum in Cologne
had one of the biggest collections in the world. He gave 80 paintings to NAMOC. He thought he was way ahead of his time. But NAMOC had no appropriate conditions either to store or exhibit the paintings. I had my conservators working with NAMOC's people on the plans, that allowed this gift to come to China. Well now the biggest museum building in the world is going to be NAMOC; Jean Nouvel is the architect-- it's 120,000 square meters. NAMOC has gone from being a socialist warehouse built in the 1950s in a building that was ill-suited to being a professional museum in the contemporary context to its next incarnation. It will be the biggest, most sophisticated, most modern museum in the world, perhaps setting a new standard. Well, we will see.
Let's talk about the large scale private museums in China. It seems that most of them have an unsustainable financial pressure because of the lack of enough audience.
If the cost of building the museum, operating the museum and presenting all the exhibitions were going to be paid for by the people visiting the museum, the ticket price of the Guggenheim would be one hundred dollars per person. At that price, there would be few takers. Most museums are not sustainable if the admission revenue alone is the only source of funds. Admission revenue maximization depends on setting a price that people will feel comfortable to pay. At the Guggenheim Museum, the admission price was always pegged to the price of a ticket to a new movie, it was a good rule of thumb. Other sources of funds included private donations, usually through the Board of Trustees; exhibition sponsorship, usually provided by large corporations as a public relations investment; and by various streams of earned income from special events, the museum store and the museum restaurants.
In Europe, there is a precedent for state support and until recently in most European countries. State support or the subsidy for culture has been probably 90% of the operating cost of its major institutions. So museums by themselves will not make profit. It is very hard the first year for somebody who come in, take
Budi Tek
for example. If someone came to me and said he wanted to do this, I would tell him the truth, as I told the people from Meixi Lake-- you have to be prepared, you will not cover the cost of operating the museum through attendance. Every museum in the world needs a subsidy. Why is the government generally prepared to pay for the subsidy? It is because culture is both a social good and a social necessity, so it's something that a society has to find ways to do. Sometimes the private sector gets involved-- there is no doubt; sometimes, real estate developers feel that culture adds value to their properties-- there is no doubt. That investment can be expressed in any number of ways. They can build corporate collections; they can put big pieces of art in the lobby; they can put their office buildings in a cultural district.
Can you imagine a society without museums? No, you cannot. I think it is a biological need. So social structures evolve to support this need. The American government obviously thought culture is an important social good, so they give donors tax deductions. This has been a very lucrative and important way for institutions like the Guggenheim, or the Met, or MoMA to continue to develop their buildings and collections and to operate with a balanced budget over the long term. Today, in the United States there are many museums with 70 to 150 years' history, and in the process of growth they have become relatively rich. That wasn't always the case. You know the Met as a big huge complex on 5th Avenue, right? In 1870, the first Metropolitan Museum was in the Dodworth Building on 681 Fifth Avenue.
So you have to start from somewhere.
So with regard to private museums, I do not think we need to worry about. The owner entrepreneurs will find a solution or a way out. One way of looking at it is that the more museums the better. And if a museum goes out of business, so what? It has happened before and it will happen again. The artworks are not going to be burned. Once, I did a museum for the Guggenheim in Las Vegas. The State
Hermitage Museum in St. Petersburg
was the partner of the Guggenheim. You might think that a gambling casino was not a good place for a serious art museum, right? Because people go there for gambling. But as was often discussed with the director of the Russian museum, we are in the missionary business and it makes sense to go where the people are. Las Vegas has 57 million tourist visitors annually. Many are going there for entertainment. Have an educational opportunity appeal to a significant portion of that audience. However, Las Vegas being Las Vegas, we made the deal only for seven years, so there was
an exit strategy for both museums and for the casino owner
. After seven years, he got a better offer; he then took the property back and sold it to someone else. So what? The world moves on.



What are the biggest challenges Chinese museums face in the next stage?



I think the biggest challenge is the fact that China is condensing 200 years of professional museum development into a 50 year period. If you look at the history of the evolution of public institutions in the West, the first public institution was founded in the middle of the 18th century: by the time of 19th century or the beginning of 20th century, the Metropolitan Museum was well established; contemporary museums were founded in the 1930s. Despite the imperial collection and historical monuments like the Forbidden City, for example-- the collections that were amassed and owned by powerful rulers-- the whole notion of a public art museum is a post-revolutionary development in China. After Mao Zedong established the government, he gave the responsibility of the Imperial Ancestral Temple to the Beijing Workers' Labor Union to use for cultural purposes, which was 65 years ago. I mentioned that when I organized the

China: 5000 Years

' exhibition for the Guggenheim in 1998, the Ministry of Culture would not allow us to include any works from the post-war period. Then 14 years later, in 2012, the state council drafted a national policy about culture, that identified cultural communication as one of the most important and powerful things taking place in China. But the point is that, in such a short period of time, you cannot build institutions, you cannot create global habits, you cannot create the systems that you need.





If you look at the issue from a Chinese perspective, where time is all relative, whether it takes 15, 25, 50 or 100 years, you know China will come back to this position of cultural dominance. But individually, day to day, moment to moment, despite all the enthusiasm, despite the wealth that has been generated in China, despite the support that has been generated for artists, it is institutional development, it takes a whole training of a professional class, it takes time. How is that problem solved? The problem is solved. Look at Klara and Victoria, look at all the people working here, look at people going to NYU and other places to study. They are learning the best practices. When and if they ever go back to China, they will become a part of a professional museum class. It's not that you graduate at 22 and you become a museum director. Usually it takes two decades of being inside of a professional class. So the biggest issue facing China is time.



For a long time, people have tended to put business on the opposite side of art. Do you think this thought has clouded people's understanding of what you have done?

The short answer is yes. But these are all complex social issues being shaped by huge forces, economic, political, and social. The issues may look different from time to time and place to place; there are always a variety of points of view. Look at the biggest issue in front of the Supreme Court today (this talk took place in Apr 28, 2015

)– it's same sex marriage. You would think that it is absolutely inevitable, but according to the latest New York Times, it's still not clear whether the Supreme Court will be in favor of same sex marriage or not. Some people have views that the culture is so sacred that business shouldn't be involved in it, but I don't think that is necessarily true. Artists are like manufacturers, artists want to be rich like everybody else, they want make and sell their paintings. They all have egos, and employ commercialization strategies to do things. It's a fact, it's a condition of life. Why ignore it? Why try to prop it up with essentially false barriers? It's always struck me that essentially the press continuously criticizes the connection between art and business, and implicitly they are trying to argue for a sort of sacredness of culture that shouldn't be contaminated by things such as power, politics and money. But it is a fact that the press always breathlessly reports the highest price at auction; and they continuously make lists of the most powerful people in the art world, the top 200(laugh). These lists regularly appear in Chinese art magazines. Money and power are interesting stories. Everybody likes to watch. It's just what it is, it's a human condition.



From the days when you were at the Guggenheim until today, you have always been standing on the front of globalization. Why do you so insist on it?



Survival. I am concerned about the future for my two sons and the best way to express that concern is to try to participate in some level on shaping that future. Look at this fast changing world; who knows what is going to happen? The more you know about it the better. Culture is the best medium for exchange. Every war is a cultural war; every single war is a cultural war. The world would be better if people built museums rather than aircraft carriers, so why not? I am not building aircraft carriers; I am not building jet planes; I am not building weapons; I am building experiences. That's all. It is what it is. Today you have computers, technology, instant communication. You cannot get away from it. One hundred years ago, whatever took place in China, nobody here ever thought about it. The world was a much vaster and more distant place. It becomes much smaller. You ignore it at your own risk. Or what are you going to do? You are going to say I live in a little village and don't care about the rest of the world? Look at this whole interview: you are Chinese, but in New York. You are the one who is global. You are trying to create a certain media narrative; you are as much a part of globalization as I am. I just perfected some ideas that I can use in this global context. That's in the air, nothing special. So you cannot pull it out of the context. I am holding up a mirror and you answer the question.



So you just sit in the office waiting for offers from other parts of the world, or do you go out to explore it?*



I went out to see the world. It was a conscious decision for me to go to China, no doubt. I think that the work I've done in China is extraordinary, but I don't particularly care for myself whether I am successful in China or not. It will work itself out in it's own time if it will be significant or not.



You told me the figure that in your forty projects of your professional history, only ten could get built. So how do you see your 75% failure rate? Have you ever been disappointed?



Do you know the game of baseball? The best and most successful baseball player has a batting average of .300 which means they are successful 30% of the time. And the player who consistently hits the ball 30% of the time, he will get paid $25,000,000 a year, for being a failure 70% of the time. Does that player wish that he would be successful 50% of the time? Of course, if he were successful 50% of the time, it would be unprecedented and he would make $100,000,000 a year. Is he sad about that? A little maybe. It's like life. If you flip a coin, it will be heads 50% and tails 50% of the time. So I am realistic about things that I do, that I cannot control.





You can even put this point of view into the framework of projects that we are doing in China. We were going to sign an operation agreement for the Meixi Lake Museum by August of 2013. Well, it's now 2015, nothing has happened. Why is that? There can be many factors that were not anticipated in 2009 when the project began. The economy has slowed, the new president has put a very strong anti-corruption policy in place, and perhaps the real estate market has turned out to be overinflated. It is clear that the growth rate in China is not going up as much as it was five years ago, and that may have slowed of the project, or at the very least prolonged decision-making process.





But I see what's happening in China to a certain extent, it's a conclusion that the social attitude and issues politicians paid attention to have a lifetime. Sometimes it got to slow up. Sometimes for policy reasons, sometimes for disaster. The biggest disaster for me was 9/11, for sure. My biggest project was going to be right here all through the east side right off Wall street on the East River, a huge project with Frank Gehry. One of the donors on my board gave $250,000,000; Robert Rauschenberg pledged 2000 artworks from his collection; we won a competition of 15 developers. Much bigger than Bilbao, much bigger than Bilbao. Then what happened? Hoo, two airplanes ran toward the World Trade Center, changed life, downtown, forever, completely changed it. I cannot control that. Or perhaps I can control it; perhaps my response to that was to say: ok, I am going to go to the Middle East, which I did. I was the person who was in charge of the plans for Abu Dhabi but I am no longer at the Guggenheim, and I no longer go to Abu Dhabi.





To go back to your question about the 75% failure rate. Actually I think a 25% success rate for large-scale public development projects, with all the variables included in such a complex process, is quite successful. I cannot control what happens in the world. There may be an earthquake; there is a terrorist attack; there is a financial crisis; there is a pressure to eliminate corruption in government-- events that will influence the outcome of any given project. Who knows. So I don't think that is a function of my management skills per se. I think it's a function of society. My success rate might be better than anybody else, with only 25% success. So does that please or bother me? No. (Stop for five seconds.) Plus, I always have new projects; they always get better. I may have the best one going right now.



The best one? Meixi Lake?



Oh, no. I have another one, far away from China. It's my apotheosis; it's the convergence of all of my ideas. At this particular time, toward the end of my life, toward the end of my career, I am trying to shape the project that will be the perfect poetry and perfect summary of everything I've done. I've been working on it for six months now. I think it's fantastic. But for now, I cannot talk about it.



I remember the first time when we met, you told me that you had a very complex feeling towards the press. You said that there were lots of inaccurate reports, even including the positive ones. What is the biggest misunderstanding? I could even imagine that some critics would ask: "Will China be the next testing ground for Thomas Krens?" after we publish this interview. How will you respond if that really happens?*



Ah, I don't know; I don't study it; I don't really think about it. If you think about the mechanics of the media, like all aspects of culture, it is a business at its heart and it is based on transactions. The press depends individual reporters, who are paid to have a point of view. It's like on television, where you have conservatives on Fox and liberals on MSNBC; they continually present their points of view on every topic. There are many people for various reasons don't like what I do. At the same time, there are many that do. Of course you want your story to come across all the time, but it rarely does. It's not personal per se, or maybe it is personal, I don't know, I don't know the people who were involved.





But I know that all that means just something else out there. I do not spend a long time trying to deconstruct how I'm viewed in the world. That does not mean that I ignore it, but I have to be realistic about what I can control. I don't have any particular interest in making my personal life and character to be part of anybody's story. It's none of their business, so I don't cultivate the relationship with the press. At the end of the day they report history. If I do good things, great things, it eventually doesn't matter what any individual critic will say one way or the other. So I am totally neutral on the topic. I cannot control the press, so I don't speak to the press. I am more or less happy doing what I am doing.
* These scetions were not included in the Chinese version which appears in
The New York Times Chinese
on October 22th, 2015.